LINKS











IMAGES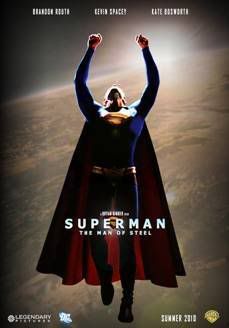 Superman: The Man of Steel

Prior to the debut of Superman Returns in the United Kingdom, Brandon Routh hinted at the possibility of the sequel at a press conference, saying "At the end of this film we see that there is so much more to explore." Newsarama reported from the 2006 San Diego Comic-Con that director Bryan Singer had been in talks to direct a sequel for 2009. According to the article, Singer said that while Superman Returns allowed him to introduce the cast, the sequel would allow him to 'go Wrath of Khan on it.' He added that there would be an alien villain. In another interview on Superherohype.com, Singer indicated a possible return of the New Krypton island.

On August 18, 2006, the Los Angeles Times reported that Warner president Alan Horn thought that Superman Returns "was a very successful movie" and that he was planning on a sequel for 2009. It had been thought that a Superman Returns sequel hinged on the film's domestic box office performance, with some media outlets suggesting that Warner Bros. wanted it to take in at least $200 million in the United States for a sequel to get the green light. The film officially passed the $200 million domestic mark on October 22, 2006. On October 25, 2006, IESB.net reported that a deal between director Bryan Singer and Warner Bros had been finalized for a sequel. The budget will reportedly be reduced; however, the existing sets would contribute to lower costs across the board for the upcoming movie. The sequel is expected to be more action-focused than its predecessor.

The focus will be on a tighter story with more villains and bigger action sequences. On July 10, 2007, Variety reported Kevin Spacey will return for the sequel. They also referred to the sequel as Man of Steel and reported Singer was about to pitch the sequel to Warner Bros. with Michael Dougherty now writing the screenplay. He plans to start production in 2008 for a 2009 release.